We recently sat down with Lisa DiGate, vice president, global business–HP Indigo at Michelman, to discuss the power of innovation, collaboration and a focus on sustainability in propelling innovation forward in the digital printing and packaging industries.
WhatTheyThink: Tell us about Michelman.
Lisa DiGate: At Michelman, we rally around one purpose: innovating a sustainable future. We feel both grateful and determined - grateful that our customers and our associates have helped us create a strong company with global manufacturing capabilities and a broad portfolio of unique water-based specialty coating solutions.
These solutions range from primers and overprint varnishes that drive growth in digital printing, to functional coatings for sustainable packaging, to unique solutions that protect seeds in the agriculture industry, and that enhance the production of advanced composites for automotive and aerospace as well as the construction industry.
We are determined as a team to take these capabilities and solutions and continue to make a difference, as we have been, globally, for the past 70+ years.
WTT: Can you explain how Michelman's coatings impart critical functionality in packaging and other printing applications?
LD: There are multiple ways that our coatings provide needed performance in digital printing—including enabling printing on a wide variety of substrates, protecting printed surfaces and providing enhanced barrier properties in packaging.
For example, our DigiPrime primers provide outstanding print receptivity on multiple substrates, excellent ink adhesion, food compliant options and options for use in compostable packaging. With broad substrate compatibility, these primers also support printing on renewably sourced and recyclable substrates.
It's important to keep in mind that our coatings are part of total solutions. They work together with other materials to enable desired outcomes in final structures. These final structures are subjected to all sorts of environmental conditions. I'm not sure most consumers consider the number of environmental stresses that a package experiences between its point of manufacture, its supply chain journey and its appearance on a retail shelf.
At Michelman, it's our job to think through to the end uses of our products and, working closely with our customers, develop needed solutions to protect, for example, the printed surface of labels.
A bottle of beer may encounter many environmental stresses after leaving the bottling line until it is in the hands of a thirsty consumer. These changes include variations in temperature and humidity, as well as "rubbing" challenges.
For example, the labels on beer bottles face abrasion as they rub against one another, or against secondary packaging, during transit. Our line of overprint varnishes and strengtheners help protect printed label surfaces from abrasion, UV light and water. Using overprint varnishes helps maintain the eye-catching label graphics that can be a strong part of brand identity.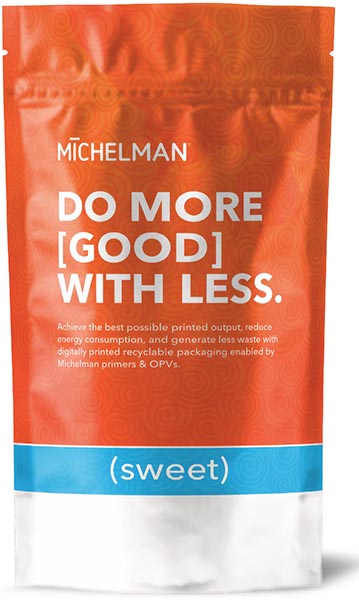 DigiPrime® enables high-quality HP Indigo printing on renewably sourced and recyclable packaging.
WTT: How do Michelman solutions help packaging manufacturers achieve their sustainability goals?
LD: Our solutions support a circular economy in multiple ways. The megatrends of increased need for sustainability and customization have definitely been drivers in our focus on developing solutions that enable recyclability, repulpability and compostability. Our solutions enable the creation of packaging structures that are compatible with existing recycling streams; they help brands transition packaging from multi-material to mono-material and, sometimes, from film to paper substrates. Our solutions also enable the production of packaging that is lighter in weight and/or compostable—all while delivering the functionality required by specific packaging applications.
Michelman's coatings, used for both flexible and rigid packaging, provide critical functionality such as water, oil and grease resistance; oxygen and moisture vapor transmission control; and heat seal directly to paper and film substrates. Developing final structures that are up to the task of providing necessary barrier properties, have good end-of-life options, and continue to meet or exceed demanding performance, regulatory and food contact requirements is quite challenging. This is why we collaborate closely with customers and other industry leaders to develop our solutions.
In the take-out food industry, we have worked very closely with a convertor and a global coffee brand to develop a paper cup that can withstand environmental stresses associated with hot beverage temperatures and varying beverage chemistry. Most people may not know how adding milk, creamer, syrup, sugar or artificial sweeteners can impact a beverage, but each addition will change the chemistry of the hot drink. And each change to the composition of the beverage introduces additional performance challenges for the hot cup. Our current solution supports a transition to a recyclable paper cup and has no impact on the taste of the coffee.
WTT: Michelman plays a significant role in the digital printing industry. Tell us more about how this began.
LD: Michelman began working with HP Indigo nearly two decades ago. During our nearly 20-year collaboration, we've worked hand-in-hand with HP Indigo's R&D, marketing and business support teams to apply our innovation and formulation expertise. New coatings are designed to specifically work with HP Indigo hardware, ink and consumables—optimizing performance across a wide range of applications in digital printing.
Michelman has created a global channel network that allows us to service our primer customers with fast and reliable service. We also reach out to press owners for ongoing feedback to ensure that our solutions are delivering top performance—both from a production standpoint as well as providing the functionality needed in the finished product.
WTT: As noted above, "Innovating a Sustainable Future" is your purpose. Can you provide any examples of recent innovation and how that has benefited the digital printing industry?
LD: Our latest innovation in the digital printing industry is DigiPrime Vision, a family of groundbreaking water-based digital print primers specifically formulated for use in the in-line priming units of HP Indigo Digital Presses.
We are really excited to launch DigiPrime Vision 9000, the first product of this new family. DigiPrime Vision 9000 enables printing on a broad range of challenging substrates. Consumers have grown accustomed to eye-catching labels and packaging that help products stand out from the crowd on retail shelves. What may seem like small changes in a label or package can have a big impact on the consumer experience.
For example, some label makers might print on substrates where ink adhesion can be particularly difficult, including vinyl and heavily textured papers as well as niche materials like velvet, wood veneer and twill. HP Indigo Digital Press owners looking to expand into new applications, like these, will appreciate how DigiPrime Vision 9000 enables superior runnability.
DigiPrime Vision is also in the final development stages for the HP Indigo V12 Digital Press. Label producers will be able to migrate longer runs from flexo to digital. It has great cross-platform compatibility and allows press owners to transfer jobs between the HP Indigo 6K, 8K and V12 Digital Presses. It also simplifies pressroom management while promoting performance, compatibility and ease of use.
WTT: How important is stakeholder collaboration in the development of innovative solutions for the digital printing industry?
LD: If you are committed to a more sustainable future, you need to be committed to doing things that will help get you there faster and with greater effectiveness—our experience is that collaboration with partners who have the same values helps us get there faster.
We collaborate with partners in multiple ways, from joint development of packaging structures through engineering specific solutions to enable optimizing production efficiencies on HP Indigo Digital Presses. Our technologies enable new solutions and innovation. We often leverage our global applications experts to help customers identify solutions that will best meet their needs.
On the packaging end, we recently collaborated with other industry leaders to develop innovative technologies that facilitate improved end-of-life solutions for flexible packaging structures, including structures using either film- or fiber-based substrates. We developed a new generation of multifunctional oxygen primers that provides, in a single, thin coating layer, improved barrier properties while also aiding the metallization process. This collaboration resulted in development of two groundbreaking sustainable packaging solutions—including a recyclable metallized PE film structure and a paper-based packaging solution designed to replace high barrier film packaging.
We also share our stories of collaboration to help build momentum for change.
WTT: What lies ahead for Michelman?
LD: This is a very exciting time to be a provider of water-based solutions that enable our customers to take a leadership role in driving the circular economy forward—this especially applies to our work in the digital printing, label and packaging industries.
Going back to our purpose of "Innovating a Sustainable Future," we have long recognized the need to be good stewards of the planet. We continually challenge ourselves to develop new approaches to enable our customers, and our communities, to thrive. In the digital printing label and packaging industries, we help our customers expand what's possible!