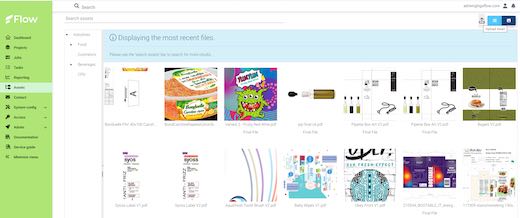 (Gent, Belgium): Tallon Graphic Solutions (TGS), a leading software provider of artwork management systems for brands and consumer product groups, announces a major upgrade of its cutting-edge software, FLOW. With a heritage built on streamlining and automating complex graphical workflows for global leaders and local heroes alike, TGS is committed to enhancing user experiences and delivering top-tier multi-project management solutions.

FLOW provides a professionally-managed SaaS software solution to streamline, track, and approve packaging designs and artwork on-the-go. It empowers users to collaborate with multiple stakeholders, organize intricate approval workflow chains, and approve graphical projects with just a few clicks. The latest release of FLOW introduces innovations that will transform how customers manage graphical projects:

Improved Asset Management: FLOW now offers enhanced asset management capabilities for both 2D and 3D files. Users can effortlessly bulk upload assets, share assets directly from the library, and open assets for review, simplifying asset-related tasks and fostering seamless collaboration. The asset library is now organized with a hierarchical folder structure for a better user experience.
Bulk Actions for Jobs: FLOW introduces bulk actions for jobs, providing customers with unparalleled flexibility. Users can efficiently set participants for multiple jobs, edit metadata on multiple jobs as a group, and clone jobs swiftly, saving valuable time and effort.
Enhanced Job Management: The Jobs feature has been further refined by incorporating job-level notes that are visible within the Activity overview. This enhancement ensures that vital job-related information is readily accessible, promoting improved communication and coordination within projects.
Expanded 3D File Support: FLOW now offers comprehensive support for 3D files, including iC3D files. Users can upload 3D files to FLOW for viewing, complete with an accurate preview, facilitating seamless integration of 3D assets into their projects.

These innovations represent TGS's unwavering commitment to delivering cutting-edge solutions that drive efficiency, enhance collaboration, and elevate user experiences. "As a company deeply embedded in the graphic industry, we understand the unique challenges our customers face," shares Cédric Dauphin, New Business Development Manager at TGS. "With this latest release of FLOW, we are excited to provide our customers with the tools they need to streamline their graphical workflows, improve efficiency, and achieve outstanding results."

To learn more about the latest version of FLOW and how it can benefit your organization, please visit www.tallongs.com.