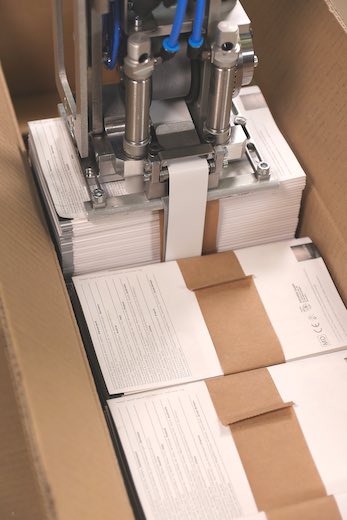 Stand features first prototype of the mobile collect to box solution that removes inefficiencies and manual processing from deliveries

Renningen, Germany– palamides USA, the leading provider of automated deliveries and stackers for the printing industry, will present for the first time the mobile collect-to-box (CTB) solution prototype connected with the gamma automated delivery.
The collect to box (CTB) solution is a scalable system to receive stacks of products (i.e., folded, stitched perfect bound, etc.) from nearly any kind of delivery and process these stacks without human intervention into gaylords, standard boxes or pallets. The system offers unique advantages compared to other systems:
Unrivaled capability to place stacks close together in a box
Scalability through an extensive modular concept/bases
Manages wide range of configurations from simple palletizing signatures to highly versatile productions
All-in-one system to deal with highly flexible productions from 2-up to large 1-up jobs and delivery either on pallets or in boxes.
"We are finding customers like the efficiency of depositing stacks of print jobs in cartons or pallets without having to make manual adjustments," said Bob Conboy, President, palamides USA. "Also the advantage of the mobile CTB is having the flexibility to move the solution around in the print shop to different postpress production lines as it is needed."

The heart of CTB is the unique new, patented band-gripper system, that overcomes the disadvantages of existing gripper systems. Other gripper systems need space between stacks to release the stack and move the gripper out. This space between stacks simply disqualifies such systems from processing stacks close together or into boxes without manually repositioning the stacks closer. The CTB band gripper is embedded into a system of multiple devices to meet most customer requirements. Requirements such as grouping devices to save cycle time, 2-up ability or a large variety of interfaces to connect the CTB to multiple delivery systems.

After the installation of the industrial CTB solution in Germany, the machine shown at Printing United is the mobile CTB prototype. It covers all requirements from folding to perfect binding and offers the possibility to use the entire CTB toolbox to adapt the system to the demand. The CTB system works well with saddle stitching, inserting folded products into erecting cartons and networking for barcode processing. "CTB has the potential to transform deliveries," said Conboy. "Our goal at Printing United Expo is to discuss short-term projects as well as future developments with Expo attendees as CTB can be integrated into further processing steps."

The CTB solution features the palamides gamma automated delivery, offering increased productivity and reduced operational costs for postpress production processing. With its small footprint and flexibility, the gamma delivers efficient and effective transport of stacks to finishing machines. The operator-optimized design ensures cleanly jogged stacks, allowing operators to check production quality and pack stacks with ease. Customers appreciate the simplicity, flexibility and user-friendly setup of the gamma, with good results in production speed and reduced personnel requirements. This high-performance delivery system is suitable for a wide range of printing applications, making it an asset in any print production workflow. Moreover, in conjunction with the Dynamic Separation Platform (DSP) toolkit, the gamma provides operational data, dynamically separates book blocks, optimizes variable data print production processing and communicates with various production machines.

In Hall B at Stand B1413, palamides will also share updates on its line of automated deliveries that offer best-in-class productivity and worry-free production, most with only one operator. Visit palamides Printing United Expo to book a meeting and find out more about CTB and the other solutions on display.